Voice Of Vivekananda Mobile Application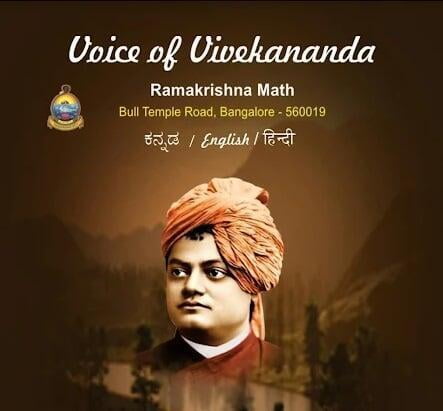 Ramakrishna Math, Bangalore launched its first cyber venture on 1st January 2015, the holy Kalpataru Day. As a part of the Annual Public Celebrations of the Birth Anniversaries of Sri Ramakrishna, Sri Sarada Devi and Swami Vivekananda, a mobile application (App) titled Voice of Vivekananda was launched by Dr Chenraj Roychand, Founder Chairman of the Jain Group of Institutions. The other Chief Guest for the function was Sri Suhas Gopinath, an entrepreneur who has the distinction of being the world's youngest CEO at the age of 17 after starting his own IT company Global Inc. at the age of 14.
Dr Chenraj Roychand spoke of his vision for education which is being implemented in the Jain institutions and the tremendous challenges faced in the early years of the institution. He also spoke of the inspiration he received when he read the works of Swami Vivekananda. Sri Suhas Gopinath spoke regarding the difficulties and problems faced by him and how the words of Swami Vivekananda have inspired him in his entire career and life.
Details of the Mobile Application:
Purpose: To spread the message of Swami Vivekananda to the individual level as mobile phones particularly smartphones have become so ubiquitous in today's India. In our opinion, such Apps are a powerful medium to reach the life-giving message of Swami Vivekananda to the mobile screen of the recipients and further to their hearts and minds. It is our conviction that such Apps in the hands of the youth of India will become a powerful instrument of social change.
Method: A selection of the sayings of Swami Vivekananda on various topics have been included in this App. Along with the text, an audio snippet has also been added. References to the Complete Works of Swami Vivekananda in 9 volumes have also been included to enable the reader to search the text in the Complete Works and read further.
Mobile Operating System Platform: Presently launched on the Android platform of Google. Launches on other platforms like Apple iOS and Microsoft Windows are planned at a later date. The App is available as a free download on the Google Play store.
Upgrade: At present around 11 topics have been selected with around 15-20 sayings per topic. This will be enhanced in the future with additional topics and sayings.
Click on the Image Below to Download the Application to your Mobile or click on this link http://market.android.com/details?id=com.rkblr.viveka
Sample Audio available in application